Authority Members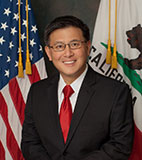 John Chiang
State Treasurer

Residence: Torrance, California.
Background: Mr. Chiang graduated with honors from the University of South Florida with a degree in Finance, and received his law degree from the Georgetown University Law Center. As State Treasurer, he oversees a bank that processes trillions of dollars in transactions every year. He sells Californiaís bonds, invests the Stateís money and manages its cash. Prior to being elected Treasurer, he served from 2007 through 2014 as State Controller. In that office, he took steps during the Great Recession to preserve cash to meet obligations to education and bond holders, worked to ensure the fiscal solvency of the Stateís pension plans, and ensured that $3.1 billion in unclaimed property was returned to the rightful owners. Prior to serving as Controller, he was elected to the Board of Equalization in 1998, where he led with innovative taxpayer-friendly services such as the State's free income tax return preparation service, ReadyReturn.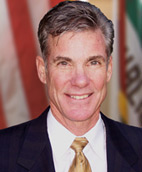 Tom Torlakson
Superintendent of Public Instruction

Residence: Pittsburg, California.
Background: Tom Torlakson was elected to a four-year term as Californiaís 27th State Superintendent of Public Instruction on November 2, 2010. As chief of Californiaís public school system and leader of the California Department of Education, Superintendent Torlakson applies his experience as a science teacher, high school coach, and state policymaker to fight for students and to improve the Stateís public education system. During his tenure in the California State Legislature, Torlakson acted to protect education funding, improve student nutrition and physical education, and ensure school safety. He also championed legislation to increase funding for textbooks, computers, and other instructional materials and efforts to close the digital divide, eliminate the achievement gap, and reduce the dropout rate. Born in San Francisco, Torlakson served as a fireman in the United States Merchant Marine, earning the Vietnam Service Medal. He earned a B.A. in History, a Life Secondary Teaching Credential, and an M.A. in Education from the University of California, Berkeley. Tom lives in Pittsburg with his wife, Mae CendaŮa Torlakson, a member of the Ambrose Recreation and Park District Board of Directors.

Michael Cohen
Director of Finance

Residence: Sacramento, California.
Background: Michael Cohen was appointed as Director of the California Department of Finance by Governor Jerry Brown in September 2013. He serves as the Governorís chief fiscal policy advisor. Prior to becoming Director, he served as Chief Deputy Director of the Department of Finance from 2011 to 2013. In this capacity, Mr. Cohen was the departmentís lead contact with the state Legislature on the state budget. From 1997 to 2010, Mr. Cohen worked at the Legislative Analystís Office (LAO). While there, he served as a local government finance analyst, Director of State Administration, and Deputy Legislative Analyst. Mr. Cohen earned a Masterís Degree in Public Affairs from the Lyndon B. Johnson School at the University of Texas and a Bachelorís Degree in Urban Studies from Stanford University. He lives in Sacramento with his wife Amy Supinger and his two dogs, Lulu and Dexter.