Jay Goldstone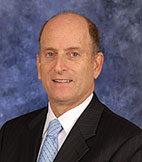 Jay Goldstone is the managing director of the Public Finance Group of Mitsubishi UFJ Financial Group (MUFG). He was hired by MUFG in October 2013 and is responsible for managing relations with State and local government clients and prospects including the origination and structuring of lines of credit, direct loans and placements, standby bond purchase agreements, letter of credit, and other related banking services.
Prior to joining the bank, Goldstone had a successful 37-year career in municipal government in financial and executive capacities. He has held such positions as chief operating officer and chief financial officer for the City of San Diego; director of finance for the City of Pasadena; manager of finance for Maricopa County, Ariz; interim city manager and director of finance for the City of Richmond; and deputy director of finance for the City of Santa Clara.
Goldstone has served on the board of directors of the Municipal Securities Rulemaking Board and was chair of the board from Oct. 1, 2012 to Sept. 30, 2013. He served as a commissioner on the California Debt and Investment Advisory Commission (CDIAC) for seven years and as chair of the League of California Cities Revenue and Taxation Committee for one year.
Goldstone received a bachelor's degree from the University of Minnesota, a master's degree in public administration from Arizona State University, and a master's degree in business administration from Santa Clara University.