Fred Keeley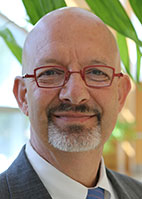 Fred Keeley, a former Speaker pro Tempore of the State Assembly and Santa Cruz County Treasurer, is the convener of the Santa Cruz Open Space Project. At the request of the Santa Cruz County Board of Supervisors and the county administrative officer, he is leading an effort to establish an Open Space District.
Keeley, who earned a bachelorís degree in social sciences from San Jose State University in 1974, has had a long and distinguished career in public service.
From 1981 to 1985, Keeley served as principal policy analyst for Supervisor Joe Cucchiara. He served as chief of staff for Assemblymember Sam Farr from 1985 to 1996.
Keeley was elected in 1988 and re-elected in 1992 to the Santa Cruz County Board of Supervisors. Among many achievements, he co-chaired the countywide effort to establish the County Health Initiative, which converted the Medi-Cal program in Santa Cruz County from a fee-for-service model to a Medi-Cal Health Maintenance Organization.
From 1996 to 2002, Keeley represented the Monterey Bay area in the Assembly for three terms, the most allowed under Californiaís term limit law. For four and one half years, he served as Speaker. In that position, he authored the two largest park and environmental protection bonds in the nationís history, for a total of $4.6 billion. Keeley also authored the Marine Life Management Act and was principal co-author of the Marine Life Management Act, and authored the California Ocean Science Trust Act.
From 2003 to 2005, he was executive director of the Planning and Conservation League (PCL) and PCL Foundation. He led the successful reorganization of these two nonprofit entities.
From 2005 to 2015, he served as County Treasurer. The major responsibility of this office was to manage a daily public sector investment portfolio of $650 million. Keeley was able to achieve an unbroken monthly positive distribution of earnings for the public agencies invested in the County Investment Pool for every month in which he was the Treasurer.
Keeley is currently also serving a two-year term as president of the Sempervirens Fund, is a board member and corporate officer of Working Partnerships USA, is a trustee and corporate officer of the National Marine Sanctuary Foundation, and serves on the board of the Community Foundation of Santa Cruz County.
Keeley also teaches government courses at San Jose State University and California State University, Monterey Bay.